Boosting Server Engagement: Lessons from FaZe Clan's Thriving Community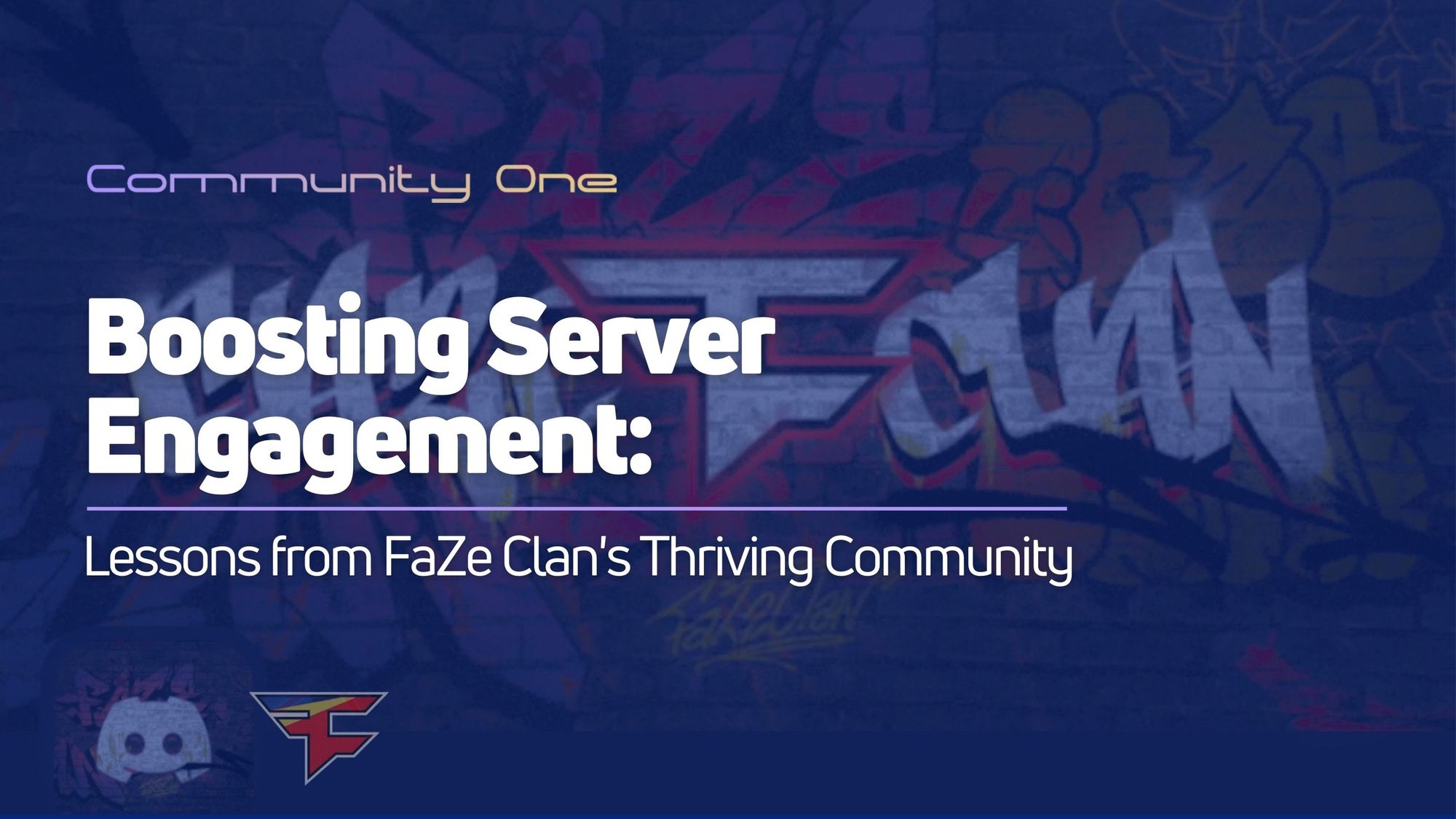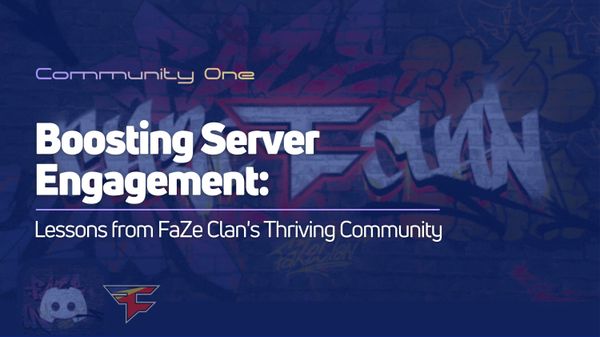 TL;DR: To boost server engagement, consider implementing a range of features like Role POAPs, Starboard channels, server feedback mechanisms, a Prestige System, Pick'ems for special events, and Server Challenges. These ideas cater to communities of different sizes and engagement levels, offering something for everyone. Implement them strategically to transform passive members into an active, thriving community.
Welcome to a quick dive into the FaZe Clan server, an online hub that's more than just a gathering place—it's a thriving community for gaming enthusiasts. FaZe Clan itself is a household name in the eSports world, known for its competitive prowess and massive following. Boasting around 88,000 members, their server sets the standard for user interface excellence. Gaming companies have spent a lot of effort building out their Discord because it is the best platform to host your communities. So why is this particular server a big deal? Let's find out.
Today, we're going to explore some game-changing ideas that you can pick up from the FaZe Clan server. While it's true that many of these concepts require a large membership to fully implement, don't worry. We've got you covered by organizing these ideas based on the number of members needed for execution. This way, you'll know exactly when it's the right time to roll out each new feature or strategy. However, if you are interested in learning the esport and gaming community general community setup guide, you can check out this post first.
POAP
Member Requirement: No requirement
The first idea we're diving into is the implementation of Role POAPs, or "Proof of Attendance Protocol" badges. These are special digital emblems awarded to members who participate in specific events. Why do users love badges? They serve as an emblem of exclusivity and early involvement. Sporting a unique badge, like "Movie Night Attendee" or "Super Bowl LV Attendee," allows members to identify and connect with others who were part of the same experience.
Here's the icing on the cake—these badges are not limited to online events. If your community hosts real-life gatherings, badges can extend to those as well, adding another layer of engagement. In the past, we have also talked to many projects where they leverage irl and discord events to increase user engagement rate. Concerned about how to implement this feature? T4 is an excellent Discord bot designed for this very purpose. It allows users to display their earned badges prominently. There's no member requirement for this idea, so it's accessible for communities of all sizes. Reach out to us if you need help setting it up.

Starboard channel
Member Requirement: low requirement
Our second idea is the introduction of a Starboard channel, an innovative feature that boosts community engagement by leveraging an "upvote" system similar to Reddit. How does it work? If a message garners 10 ⭐ reactions, it gets automatically posted in a special "starboard" channel by a designated bot. This creates a ripple effect of interaction, encouraging users to post quality content with the hope of getting "starboarded."
What makes this concept so enticing is its low barrier to entry. With a minimal member requirement, even smaller communities can make good use of the Starboard channel. The feature not only motivates members to be more active but also provides an incentive for them to invite friends who can upvote their content. The end result is a more engaged and expanding community.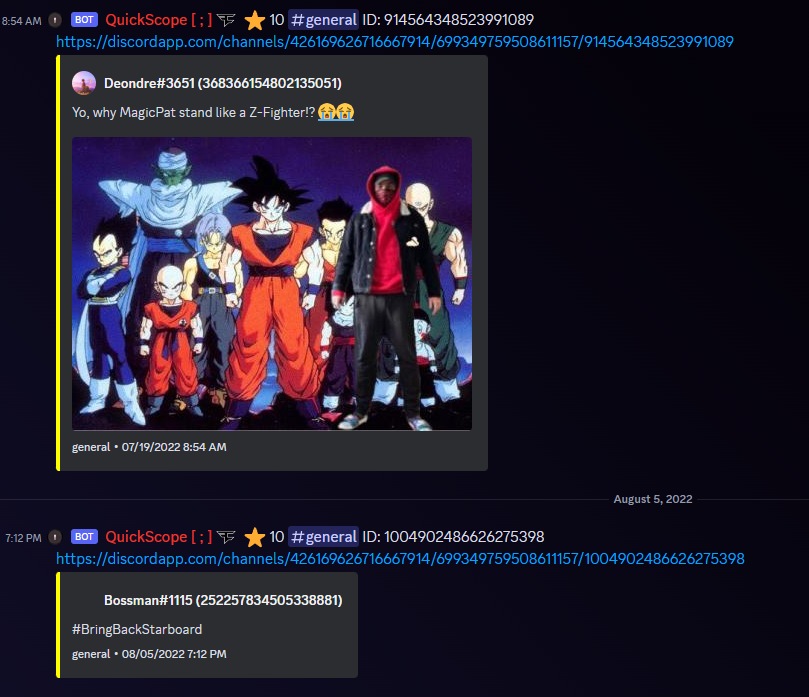 Feedback
Member Requirement: low-medium requirement
Our third suggestion zeroes in on server feedback, an often-overlooked yet crucial component for community growth. The idea is simple: create a dedicated channel where members can share their thoughts on how to enhance the server experience. There are two main setups to consider—Private and Public feedback. In a Private setup, only admins can see the suggestions, ensuring confidentiality. In a Public setup, all members can view and even vote on the feedback, turning it into a community-driven improvement project.
We recommend kicking things off with Public feedback. This not only involves the community in decision-making but also fosters a sense of collective ownership. Once you've gathered enough insights, you could switch to a Private setup for more sensitive or advanced changes. This idea has a low-to-medium member requirement, making it suitable for communities that are still in the growing phase but have a core group of engaged members.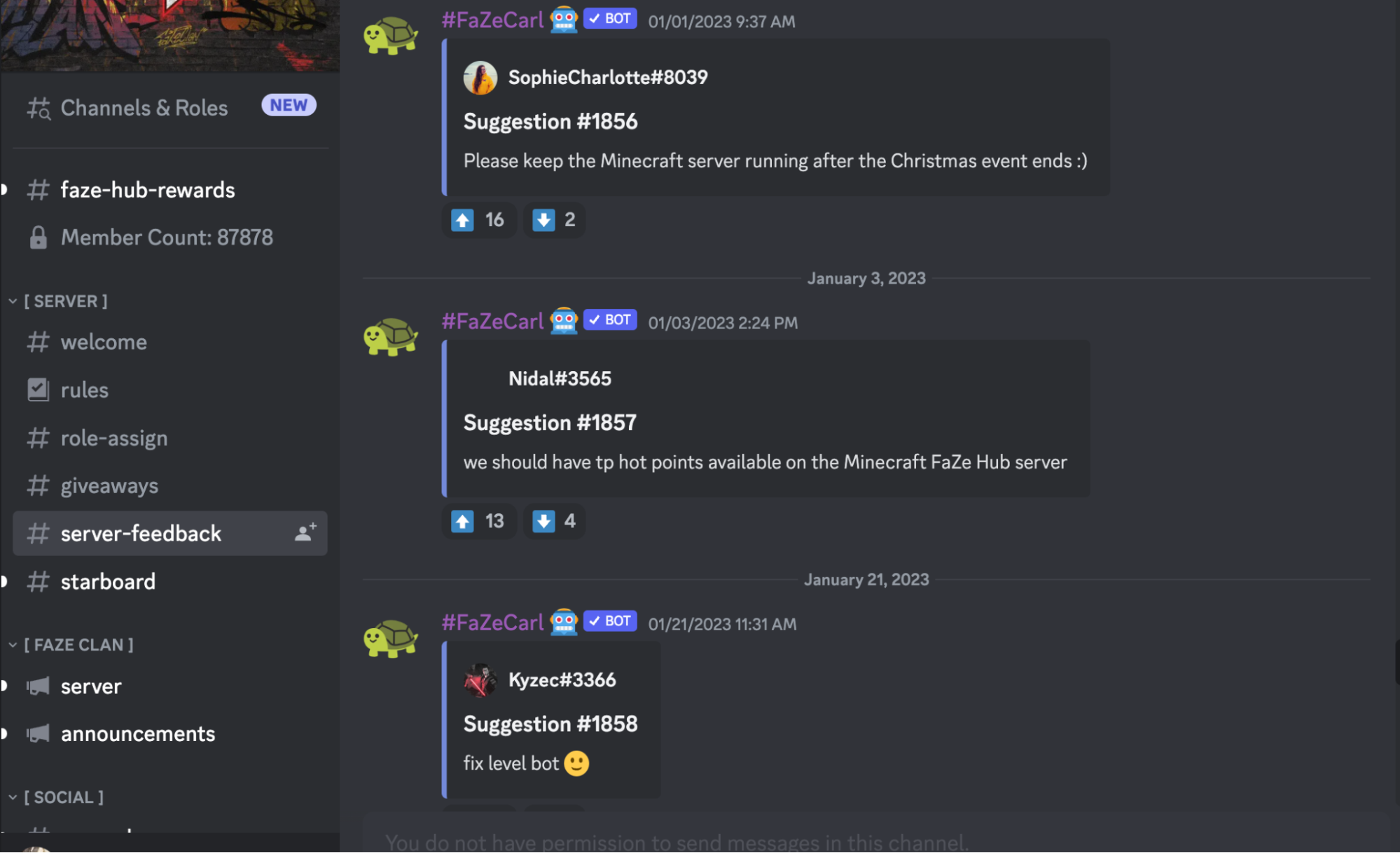 Prestige System (Server Economy)
Member Requirement: Low-medium requirement
The fourth idea to consider is the introduction of a Prestige System, an evolved form of the typical chat leveling mechanisms you might find in many servers. Rather than applying levels based on message counts or voice chat time, this system allocates points that can be redeemed for various rewards. It's a twist that adds an extra layer of incentive for members to be active and engaged in the community.
What kind of rewards are we talking about? Think along the lines of profile upgrades such as custom banners or titles. A custom title could even translate into a unique role within the Discord server. The Prestige System not only encourages interaction but also allows members to personalize their experience and stand out in the community. This makes it a win-win for both administrators looking to boost engagement and members seeking a more customized server experience.
Pick'ems (Betting)
Member Requirement: Medium requirement
The fifth idea that's sure to spark interest is the introduction of Pick'ems, a betting system tied to special events or gaming tournaments. Within a dedicated channel, a bot prompts members to place their bets on participating teams through reactions or votes. It adds an element of excitement and competition for those who may not be directly participating in the event but still want to get in on the action.
In terms of rewards, there are options for both paid and free betting. Paid betting could offer more substantial prizes such as monetary rewards, exclusive merchandise, or Discord Nitro subscriptions. Free betting, which requires no upfront investment from members, could still yield enticing rewards like Discord Nitro or in-game assets. This versatility makes Pick'ems adaptable to different community preferences and legal regulations.
Given its complexity and the requirement for active moderation, this idea is best suited for servers with a medium level of member engagement. It's a feature that not only diversifies the activities available on your server but also amplifies the excitement around special events, encouraging even more member interaction and involvement.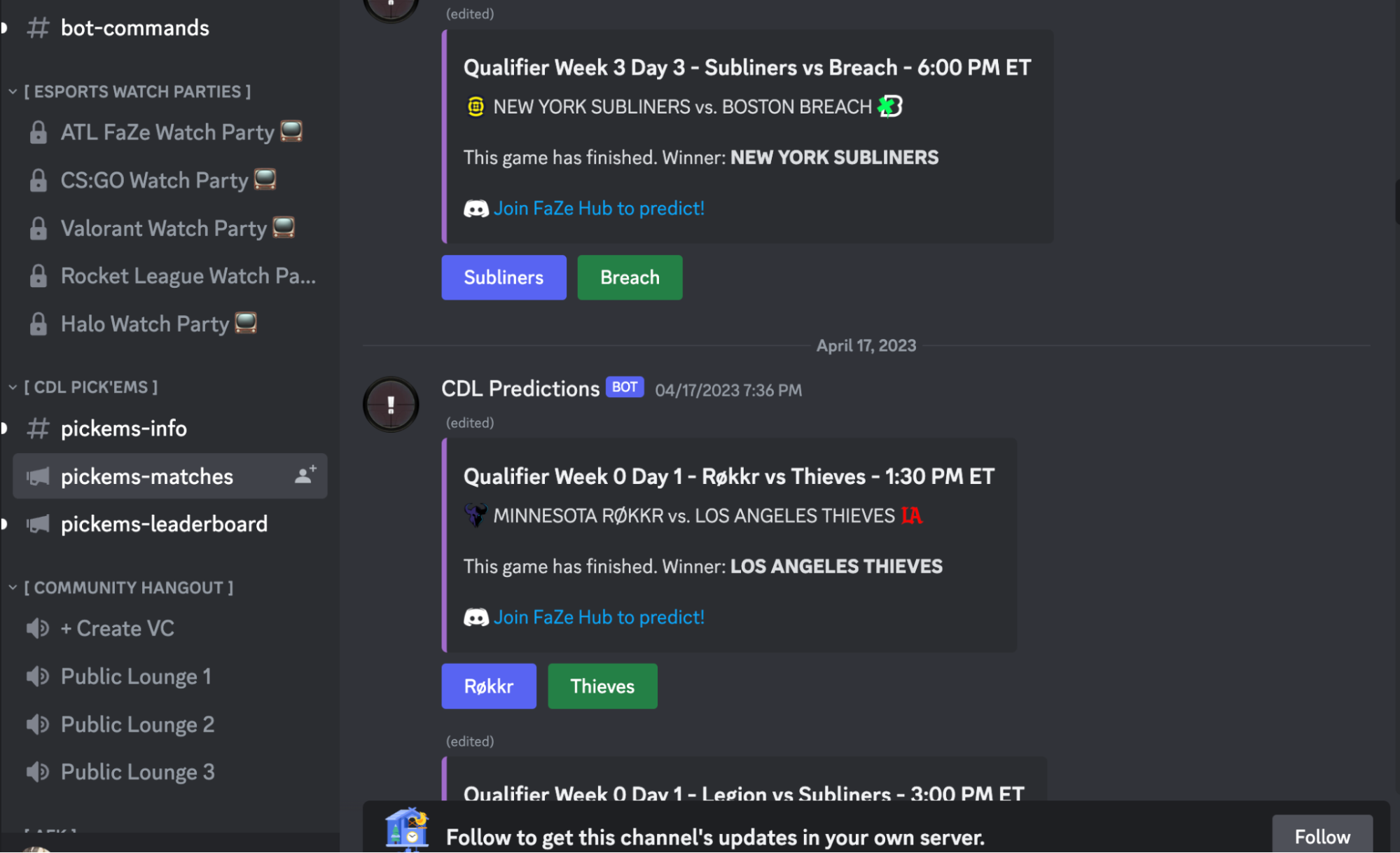 Server Challenges
Member Requirement: High requirement
The sixth idea we're diving into is Server Challenges, a feature aimed at creating both engagement and a sense of accomplishment among members. The concept is straightforward: pose specific challenges to the community, such as posting unique pictures or showcasing their PC setups in the case of gaming communities. Members can then respond by uploading the relevant content, sparking conversations and sharing experiences.
Rewards for completing these challenges could vary depending on your community's interests. For gaming communities, in-game assets could serve as compelling prizes. For broader interest groups, items like Discord server boosters could work well. The sky's the limit when it comes to rewarding creativity and participation.
Given that Server Challenges require a high level of active participation and moderation, this idea is best suited for communities with substantial member engagement. The payoff, however, could be significant, generating excitement, boosting interaction, and ultimately fostering a more tight-knit community.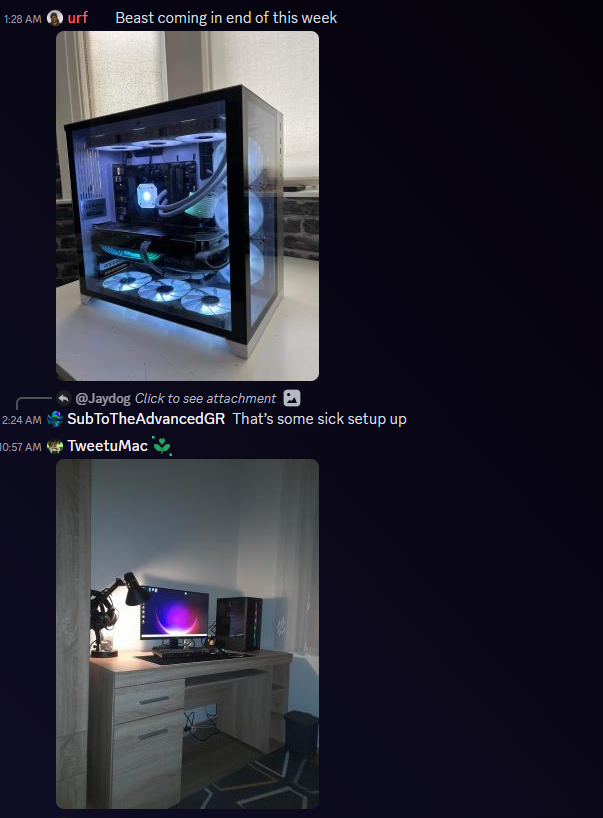 In conclusion, enhancing server engagement doesn't have to be a hit-or-miss endeavor. From the implementation of Role POAPs and Starboard channels to more complex features like Pick'ems and Server Challenges, there are numerous ways to elevate the user experience.
Importantly, these ideas come with varying member requirements, allowing you to strategically implement them as your community grows. It's all about understanding your audience, leveraging the right features, and building a server environment that not only retains members but also transforms them into active participants.