ETHDenver is Heaven and Hell: Our Journey To QuestGPT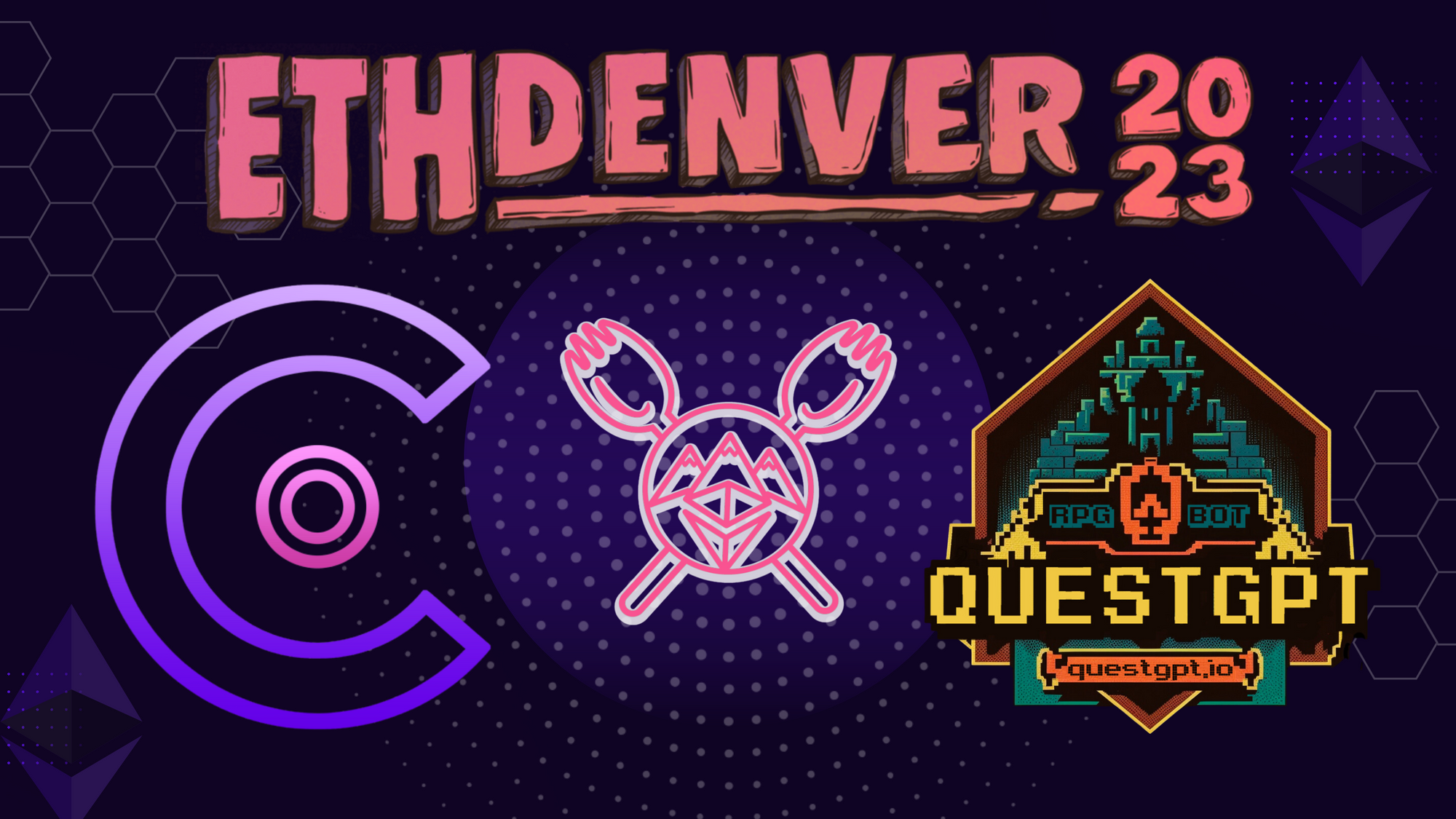 Let's take you on a journey of ETHDenver hackathon through the eyes of our team. If you are considering taking your team to do one, this will give you a bit of background on what to expect. Most of you are founders with a large team. I hope you have a good laugh at our crazy experience and know that I feel you, from builder to builder. The road is tough. We all struggle, yet we are going to keep on this quest.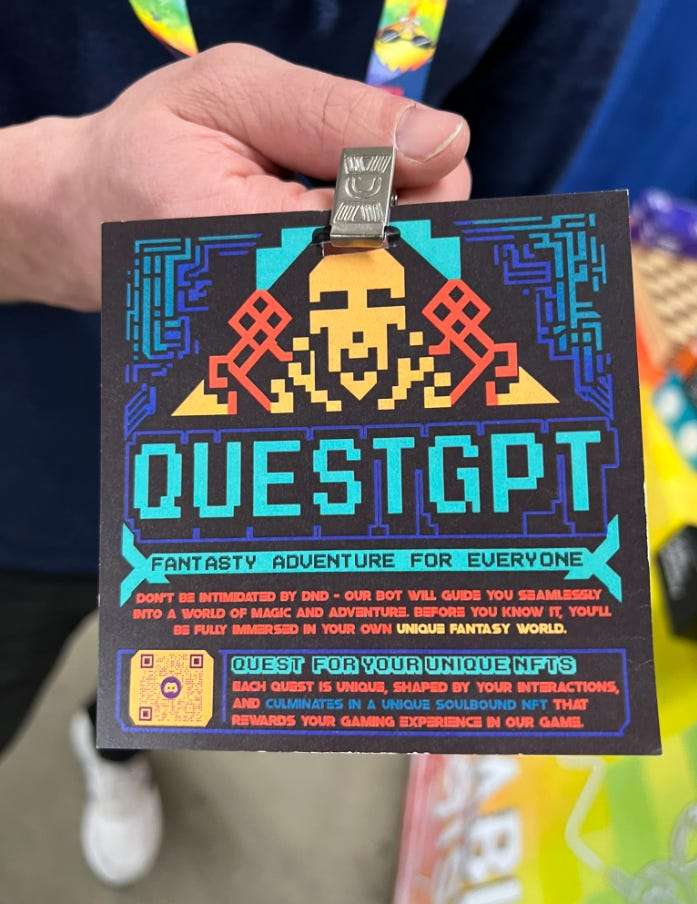 Why Did We Choose To Create QuestGPT?

As you know we have been working on SparkGPT, an AI-powered Discord chatbot that's still in development. If you haven't heard of it yet, you can join the waitlist here. During our closed beta testing, we were thrilled to see that our client's users had double the engagement rates. We knew that this would be our secret weapon at ETHDenver.
We participated in this year's ETHDenver hackathon. Our team decided to make a chatGPT-powered discord bot that allowed community members to play DnD style games on Discord. At the quest's end, each player would be airdropped with a unique NFT customized to their quest. The project name was QuestGPT.
Meet The Dream Team

Bruno, our engineer, and I made it to Denver on Friday morning. We wanted to find someone good at DnD and UI/UX. We reached out to a few people in Discord and picked Adam. Adam is an AI SaaS salesperson by day, a super fan of DnD by night, and the founder of Spacerox, an impact venture DAO for web3 space projects.
Before we go any further… Spoiler Alert: We did freakin' well.

Here are some stats about QuestGPT over the 7 days during the hackathon:
320 members joined our Discord, and our bots interacted over 5000 times.
With the launch of our NFT feature, we saw 70 quests played within the first 24 hours. Since then, we've had over 40 players mint over 100 NFTs.
85%+ of our users engaged in multiple quests to explore the story, vs 55% of users engaging in multiple interactions from leading web3 communities.
We have superfans already! One fan played 26 times to collect a complete set of NFT wizards, and two members played for over 15 hours straight during our alpha launch.
Our products bridge web2 to web3. Our players include staff members from the security team at ETHDenver to Uber drivers.
With numbers out of the way. Now back to the story!
The Best Decision We Made:

The best decision that we made was to get users from day 1. While Bruno was working on the code, Adam and I decided to start working on the landing page and a marketing strategy. We also pushed out an early version of the product (with only the DnD feature) on day 3.
Adam designed a paper board and a flier which we printed out on day 2. Then we just put the board in a highly dense area, talked to everyone about our projects and got them into our Discord. We had Spark, our chatGPT-mod, to entertain them the first day before the product launch. Because everyone was so curious about GPT, when they heard about Spark, they all wanted to try it out. We recruited 50-100 users in the first 2 days, even before our alpha launch.
Iteration is key
Selling before the product launch is a core company's value. Because we were growing users early on, we heard a lot of feedback and iterated 3 times even before the alpha was launched. For example, we changed our discord onboarding experience a couple of times when we realized that most of our audience were on mobile and notification settings were different from Android and iOS. We ended up having a two-click UX journey while removing our spark bot to eliminate "choice" for users.
Because QuestGPT is AI heavy, acquiring players' data early on allowed us to optimize our products fast. During the hackathon, we changed the story prompt twice. In the first 12 hours, when we saw users' NFTs, we noticed the sticker style was a bit disappointing and switched to a different style. You can see our product evolution on our Opensea page.
The magical moment
It was never certain that we would be able to do all parts on time. There were inherent risks with AI products stemming from the lack of complete control over user experience, especially since we were stacking multiple AI products together. Our goal was to finish the flow before optimizing each part. One night before the deadline, Bruno pushed the final NFT part of the code.
Adam tried it on our test server; he played the quest for 10 mins, entered his wallet info, and got a link to Opensea with his custom NFT. When he saw his NFT, he just stopped talking (Adam, the greatest salesman, never ever stopped talking). The air froze.
Then I played and got my NFT. After a few seconds of silence, I turned to Adam, "Oh, I feel you." Seeing a new product that had never been built before came to life was magical.
It's like Harold & Kumar Go to White Castle.

Overall, we felt like the characters in Harold & Kumar Go to White Castle during the hackathon. There were so many twists and turns along the journey. The builder camp was one of the toughest, close to deadly environments (literally). No WiFi was the first curveball, so we all got our phones for the spotty internet.
Then the fun began. There were lots of wires on the floor. I was running around and eventually tripped over by one of the wires, rolled about 10 feet across the hub while screaming, but with a safe final landing! I had some minor bruises evenly distributed across my entire body. After one night's rest, I went back to work!
Bruno decided to share a table with 3 builders because they had their own 5G internet. The relationship started normally until they decided to start the party by blasting rap and smoking pot inside the camp. Unfortunately for Bruno, who thought second-hand weed smoking was a myth and was too tempted by the high-speed internet, after a couple of indirect puffs, he got super high and started dancing with them. When he finally got sobered up, he felt a bit out of breath, and we had a mini-medical crisis.
While we had to handle these occasional curve balls, we had a lot of fun! People are soooo nice! They were so supportive of us and everyone was building cool stuff.
SporkCastle was Heaven and Hell in one.

We were excited to move to SporkCastle when the official event opened. It was magnificent. There were lights, machines, music, and people everywhere. All the most important web3 companies are there, with many free game consoles and arcade games to play!
We played a bit and then decided to settle down to continue to build. We found a delicate area of builders. It was down deep inside the basement. The lights and people were all gone. National Western, one of the oldest buildings, has the classical American basement design: dark, dingy, and no paved floor. When we were about to start working, we realized there was no WiFi or cellular signal. After a whole day of struggle, Bruno had to go home to our Airbnb.
Continuing to shill our hackathon project took a lot of work. During the daytime, we set up our board in the basement and got a few faithful fans reaching out themselves (thank you all!). Adam was smart on his feet, and we noticed vendors leaving early to attend parties, so we set up our board on their table when they left and continued our gorilla marketing. Eventually, a couple of sponsors really liked us, or just Adam, and let us hang around their booth.
One last note on SporkCastle, the organizers reacted fast. On the last two days of the event, there was some internet! We might have some stats if anybody wondered how much connectivity we lost due to the lack of internet. During the first few days in Buidlhub, we got 100 sign-ups daily (10% conversion rate). On the first day in Sporkcastle with no internet, we only got 10 sign up, at least a 90% reduction in connectivity because of no WiFi.
Yep, I still love ETHDenver!

In the end, Adam and I lost our voices from talking to too many people. Bruno picked up cold from random strangers and eventually left Denver with an exploded headache. Despite all the curveballs, this was still a fun experience for us. The people we met had gone out of their way to support us. The players would get their friends to find us. The volunteers and the mentors would contact us whenever they heard official updates (nobody knew the rule). The magnificent amount of support and cheers kept us going throughout the journey. If there were any regrets for me, I didn't spend enough time learning all the other cool stuff that my fellow builders were working on. Builders are magical, and they create cool products.
My teammates are WARRIORS.

Final words about my team. As the founder, my only job is to get everything my team needs to succeed. I took responsibility that I wasn't able to provide my team a FAIR chance to pitch our product to the judges. I feel very guilty. During our final dinner at Denver, Adam says there is no shortcut to success, and now we just have to win people over one by one the hard way.
I want to thank my team, Bruno, Adam, and Amenosis (for holding down the fort). There is no doubt in my mind that I have the best people, not because everyone is top-notch at what they do, but because all of them are willing to give 120% to the team, to dream together to build cool products (and sell them along the way), to strive for perfection in execution, and finally, to be willing to believe in me personally.
Here are all the links you need:

Our Chat GPT Powered Discord "Spark" bot (available for beta): https://communityone.io/spark
You can find all of our NFTs by players here: https://opensea.io/collection/questgpt
If you haven't played questGPT: https://discord.com/invite/questgpt